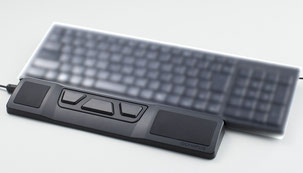 Nieuw in ons assortiment is de Olympus RS-32 hand controller. Deze handcontroller kan worden gebruikt als vervanging van een voetpedaal of als uitbreiding van een voetpedaal. 
Handig wanneer u niet graag met uw voeten de pedalen bedient of het niet kan. 
Handig mee te nemen wanneer u onderweg moet transcriberen van dictaten (uitwerken). Het middengedeelte is los te gebruiken.
* Er is Olympus trancribe software nodig om deze hand switch te besturen.
U kunt deze handbediening ook gebruiken bij uw Olympus voicerecorder. Zodat u los van uw computer, de dictaten kan afluisteren en verwerken. 
Features:
Voicerecorders kunnen vanaf afstand worden bediend
Knoppen kunnen worden ingesteld via de software
Universele vormgeving die past bij verschillende toetsenborden en notebooks
Zachte rubberen polssteun van siliconen voor een prettige werkhouding
Afneembare polssteun voor een grotere flexibiliteit
Afspeelregeling voor spraakopnamen indien aangesloten op een dockingstation
Lange en duurzame USB-kabel
Aangepast oppervlak dat de natuurlijke houding van de pols ondersteund
Ergonomische knoppenindeling voor een gemakkelijke bediening met de duim of muis van uw hand
Antislipmatje van urethaanschuim dat wegglijden voorkomt
Voor meer informatie kun je 📚deze informatie pagina bekijken of de shop bezoeken