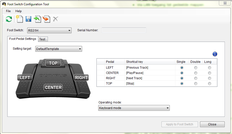 Voor Dragon kunt u bijvoorbeeld het voetpedaal gebruiken voor:
Microfoon aan of uit

Terugspoelen, vooruit en afluisteren

Dubbelklikken, selecteren en corrigeren
Waarom zou ik de knoppen van een voetpedaal anders inrichten?
Bij het uitwerken van dictaten is het makkelijk om de rechter en linker knop van een voetpedaal of voetschakelaar om te wisselen.
Maar denk eens aan het bedienen van Dragon met een voetpedaal. Microfoon aan-uit..
Of een ander programma zoals Outlook of WORD. Waar eenvoudig een nieuwe mail kan worden gestart.
Met deze software stelt u zelf de knoppen in. 
Bedienen microfoon met het voetpedaal. 
 Handig met een staande microfoon te combineren.
 Handsfree bediening in elk programma. Denk aan Windows Media Player.
Voetpedaal los verkrijgbaar. 
De software is gratis te downloaden. 
Welke voetpedalen zijn geschikt?
RS27H; Olympus met 3 grote knoppen
RS28H: Olympus met 3 kleinere knoppen
RS31H: Olympus met 4 knoppen
alle producten waar H (van HID) in voorkomt.
Direct naar voetpedaal van Olympus  >>>