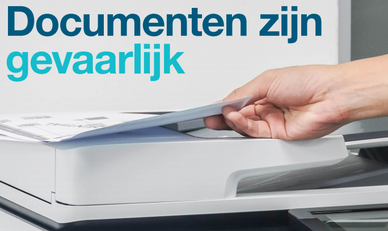 De afgelopen decennia is er aanzienlijk geïnvesteerd in technologie. Toch is de productiviteit niet toegenomen. En ook voor diefstal van gegevens blijven we kwetsbaar.
Documenten brengen risico's met zich mee.
Beveiligings- en nalevingsrisico's. 
Bij vrijwel alle taken binnen een bedrijf, van het plaatsen van een bestelling bij een leverancier tot het opstellen van een projectplan, worden documenten gemaakt.
En telkens wanneer we een document maken of wijzigen, slaan we het in digitale vorm op of maken we een afdruk op papier. Dat geldt voor alles: een Word-document, een PDF, een PPT-presentatie of een spreadsheet.
Elk van deze documenten levert onmiddellijk een risico voor het bedrijf op. 
Download en lees de white paper: Documenten zijn gevaarlijk en lees over de risico's van matig documententoezicht.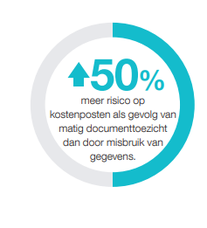 Download en lees de white paper: Documenten zijn gevaarlijk
Documenten zijn gevaarlijk.pdf
Adobe Acrobat document
1.7 MB