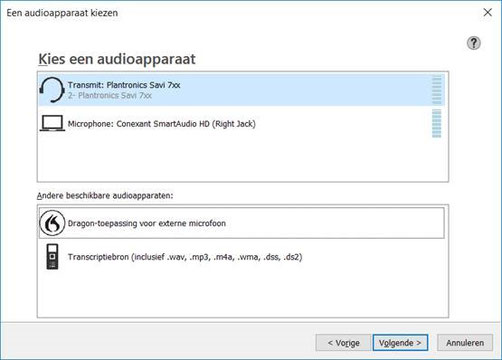 Tip van Jaïm
Hierbij een tip van onze support afdeling, van Jaïm N'Gongui.
Vaak ontvangt hij dezelfde vragen over een microfoon, headset of andere audioapparaat.
Tijdens of na installatie van Dragon kan de herkenbaarheid tegenvallen.
Lees zijn uitleg! Of vraag hulp.
Juiste microfoon koppelen aan Dragon
Na installatie:
Na de installatie kunt u een profiel maken waaraan uw microfoon gekoppeld moet worden. Zorg ervoor dat u tijdens het aanmaken van het profiel de juiste microfoon selecteert. Het kan zijn dat er meerdere microfoons, of apparaten met microfoons zitten aangesloten op uw pc.
In het bovenstaand voorbeeld maak ik gebruik van een Plantronics headset. 
Verkeerde microfoon?
Wanneer u de verkeerde microfoon heeft geselecteerd kunt u het beste uw profiel verwijderen door in de Dragonbalk naar "Profiel > Gebruikersprofielen beheren" te gaan en vervolgens kunt u hier een nieuwe aanmaken.
Niet opgelost?
Wanneer de microfoon na dit proces toch nog niet goed werkt, zou u kunnen kijken of de kwaliteit van de microfoon wel goed is in andere audio software. Door in Windows naar Start te gaan en hier "voicerecorder" in te typen, zou u een dictaatje kunnen maken en deze kunnen afspelen om kwaliteit van het geluid te controleren.