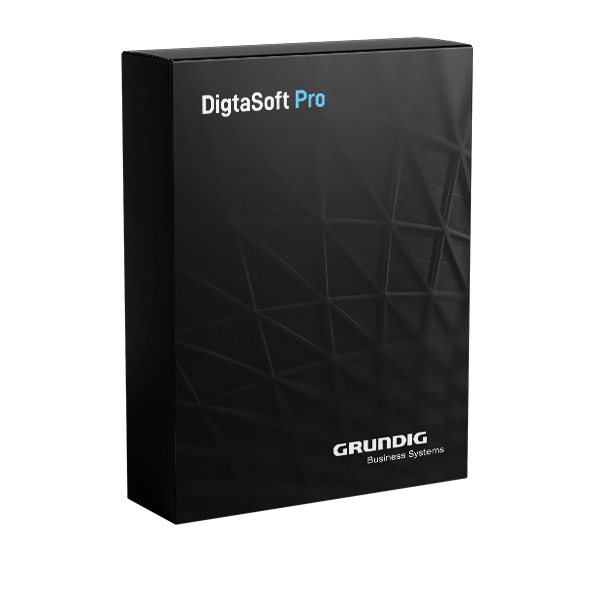 Grundig gebruikt voor het versturen van dictaten over een netwerk, internet of intranet, Digtasoft. Dictaten gemaakt met een smartphone, voicerecorder of microfoon.
Voor dicteren met een iPhone of Androïd is een speciale APP van Grundig te downloaden. Deze app is veilig en verstuurt versleuteld de dictaten.
Digtasoft is een workflow software pakket waar heel gedetailleerd dictaten veilig naar een pool of secretaresse kan worden verstuurd. Een secretaresse gebruikt een Grundig voetpedaal en Grundig headset om de dictaten uit te typen. 
Workflow- en Dicteernetwerken:
De meeste leveranciers hebben eigen software pakketten voor versturen van dictaten naar een pool of secretaresse.
Met een Grundig voicerecorder en uitwerkset heeft u DigtaSoft nodig.
Bij Olympus is dat bijvoorbeeld DSS-PLayer of ODMS. Winscribe is niet gekoppeld aan een voetpedaal en headset.
DigtaSoft 6.0: Grundig workflow voor dicteernetwerken
Deze nieuwe versie heeft een aantal voordelen:
Support Windows 10
Support Windows Server 2016
Support Office 2016
Oplossen van fouten in oudere versies
Diverse versies van DigtaSoft 6.0:
DigtaSoft Pro

DigtaSoft One

Digta Configurator mobile

DssMover

DssMover Portable

Local Voice Transcriber

Net Configuration Wizard 

NetAdministration
Release Notes Grundig DigtaSoft 6.0
DigtaSoft_6.0_EN_2016-02-16.pdf
Adobe Acrobat document
56.4 KB