Leuk speelgoed en toch handig: De spraakgestuurde app om op het Internet te zoeken. Bijvoorbeeld  in Google, Wikipedia, Youtube of Twitter. Er zit een spraakprofiel achter waardoor de herkenbaarheid best goed is.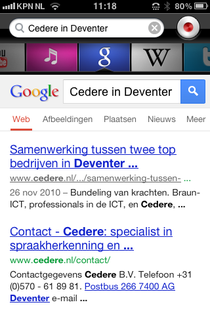 Door zoektermen in te spreken, zoekt Dragon Search in een standaard zoekmachine, bv Google, maar ook op de andere sites.
In de auto is het nog wel een uitdaging. Het achtergrond lawaai speelt een rol en ook de afstand tot de iPhone. Om op enkele cm afstand een zoekopdracht te geven, kan bijna niet handsfree, en dat leek mij nu juist zo handig.
De oplossing is voorhanden, de headset van de auto of een bluetooth headset voor iPhones. Deze bluetooth headsets vindt u in de webshop.
Dus mijn lunch "pizza in Deventer" geeft binnen enkele seconden een overzicht van de pizzeria's.
* Dragon Search is gratis te downloaden vanuit de Appstore.